Archive
In case you wish to share your memories of HMEM Nubar clubs or AGBU Egypt, please send us your picture(s) with a brief info about the content. Your contribution will develop and enrich our photo album.
The year's highlights
– HMEM Nubar Cairo occupies the second position of the Egyptian Basketball federation`s Cairo district league.
– Visit of His Holiness Catholicos Vasken 1st  to Cairo.
– AGBU's 50th anniversary commemoration.
---
January – February
HMEM Nubar Cairo participates in the Egyptian Basketball federation Cairo district matches and occupies 2nd position.
Results: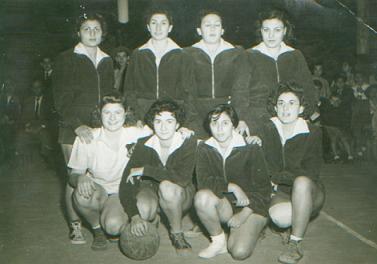 22 January: Pro-Patria – HMEM Nubar Cairo 75 – 62
25 January: YMCA – HMEM Nubar Cairo 54 – 56
28 January: Makkabi – HMEM Nubar Cairo 48 – 56
3 February: Gezira SC – HMEM Nubar Cairo 60 – 61
6 February: Keravnos – HMEM Nubar Cairo 65 – 67
HMEM Nubar Cairo occupies the 2nd position
Sunday 26 February
AGBU Cairo: Reception at the "Heliopolis Palace Hotel" on the occasion of the 50th anniversry of AGBU with the presence of His Holiness Catholicos Vasken 1st visiting Cairo . Speeches by Dikran Zeytounian on behalf of the veteran members, Yervant Drents Markaryan, head of the Armenian cultural committee and Alexander Saroukhan, vice-president of AGBY Cairo. Solos singing by Krikor Partamian and Anna Neshanian. Poems performed by Manoushe Chopourian and Onnig Kalousdian.
Saturday 7 April
HMEM Alex: Grand Ball dinner and show at the Orient Palace (Ex. Carlton Hotel).
Entrance, show and dinner 81 P.T.
Saturday 14 April
AGBU Cairo: AGBU 50th anniversary commemoration at AUC's Ewart Memorial Hall under the auspices of Arch. Mampre Sirounian.
Piano and violin concerts with the participation of Egyptian and Armenian famous artists and stars.
Sunday 6 May

HMEM Nubar Alexandria: Match between HMEM Nubar Cairo and Alex veteran teams on Hayg Djizmedjian cup.
HMEM Cairo team members: Vartan Arakelian (capt.), Girayr Arakhchinian, Azad Boghigian, Jirayr Dervishian, Megerdich Esadjanian, Varoujan Ekserdjian, Levon Ishkanian, Zaven Kesedjian, Berdj Sedefdjian, Serko Spendjian. Coach Simon Stepanian
Saturday 19 May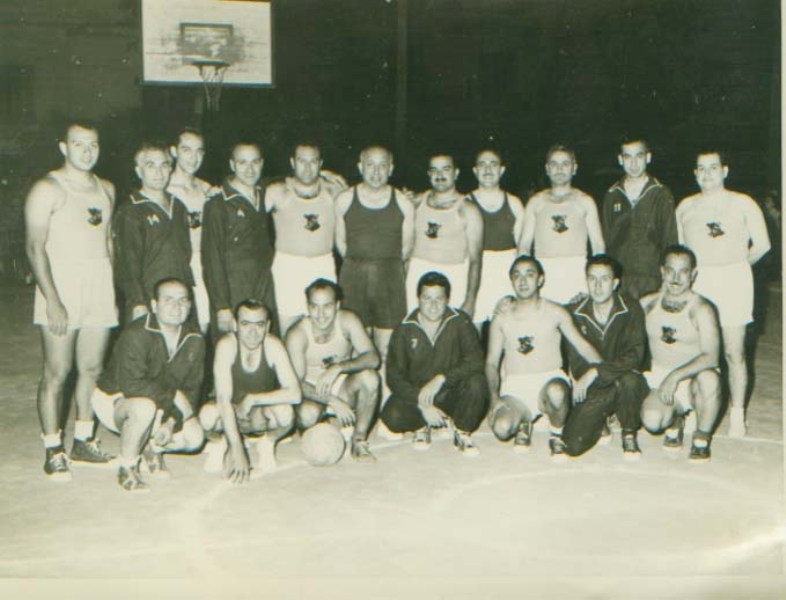 HMEM Nubar Cairo and Alex men`s and veterans teams group photo
HMEM Nubar Cairo: Spendjian Cup Basketball matches between Cairo and Alex HMEM Nubar teams men and women`s teams plus veteran teams.
 HMEM Nubar Cairo women`s team at the Spendjian cup in Alexandria
6-8 July
HMEM Alex: 10th Pan-Armenian Athletic Games at Alexandria stadium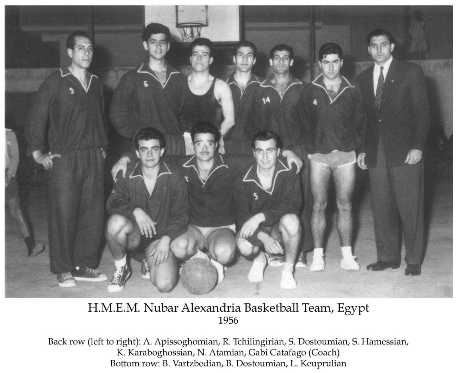 15 July
Nubar Scouts movement:
Show, Theater and dinner in Goganian club under the auspices of AGBU Cairo's vice-chairman Alexander Saroukhan.
Theatrical show: "Shepatsadz amousine" – piano – violin and dinner
Entrance fee: 13.5 P.T
4-12 August
HMEM Alex: 4 day trip to Marsa Matrouh (participation fee 400 P.T. including travel and full board accommodation).
18 August
HMEM Alexandria team wins the Egyptian federation's Women's 2nd division Championship.
The team members were: S. Khandjian, T. Vartsbedian, L. Petizian, T. Zarougian, L. Baladouni, D. Khandjian, S. Tateosian, A. Keshishian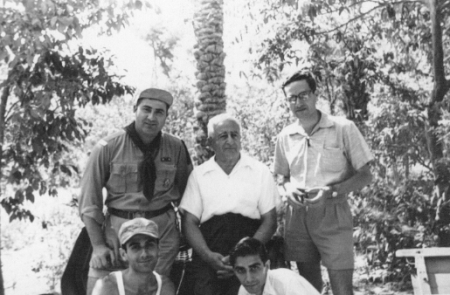 Toumig Sedefdjian scoutmaster with HMEM scouts